Meme Contest
Film.io is promoting the first Film.io Meme Contest! Use your best skills, create a meme about Film.io, and enter this competition for a chance to win Ethereum! It's meme time!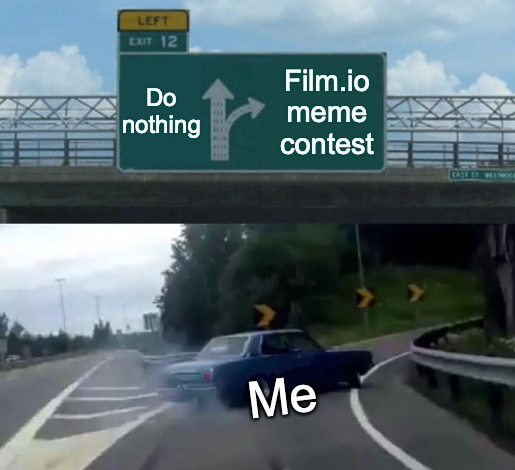 The first Film.io community meme contest is here. The Top 3 memes, as selected by the community, will win ETH.
How to Enter
Create a meme. Use the tool of your choice and your best creative skills. It must be Film.io related, not contain any vulgar or offensive language, and not touch any sensitive subjects.
Post it to Twitter or Instagram marking us at @filmio_official and using the hashtag #filmiomemecontest.
Complete the submission form here. All entries are subject to Film.io's competition terms and conditions.
Prizes:
1st – $100 in ETH
2nd – $75 in ETH
3rd – $50 in ETH
How to create a meme
Use any tool you want to create your meme. It can even be MS Paint, we don't care! It's not about the image quality, it's about the amemeziness!
Some sample tools you can use to create the meme:
Image Flip
Meme Generator
Kapwing
Unsure what to create? It can be related to Fans, Film.io's project, equality, inclusion, movies, or anything that is Film.io related!
You have from 5/16/22 at 10:00:00 a.m. Pacific Time ("PDT") to5/31/22 at 11:59:59 p.m. PST to create the ultimate meme. The 3 Winners will be selected by our community. Submit your meme to the submission form here and our staff will pick the best ones. After the top memes are selected, the community will vote and chose the 3 winners. The 3 most voted memes will win the prizes. The more votes you have, the greater is your chance, so be sure to share your meme across all your social media and invite your friends to support you!
The community will vote and select the winners through a poll on our Telegram Channel.
Read the details and rules of the competition here.