What is Film.io?
Film.io is the world's most powerful decentralized filmmaking ecosystem, placing Hollywood decision-making into the hands of creators and fans! Film.io leverages blockchain technology and fan collaboration to provide filmmakers with an end-to-end solution for creating, funding, and distributing their projects.
Film.io liberates film and TV creators and replaces centralized power with collaboration and inclusivity. Film.io's platform allows creators to submit projects as proposals, build audiences and receive market validation, expanding access to funding and licensing. It empowers fans to vote on films by staking Film.io's native FAN Governance Token to projects they support and allows film investors, studios, and streamers to scout market-validated projects with pre-developed audiences and analytics.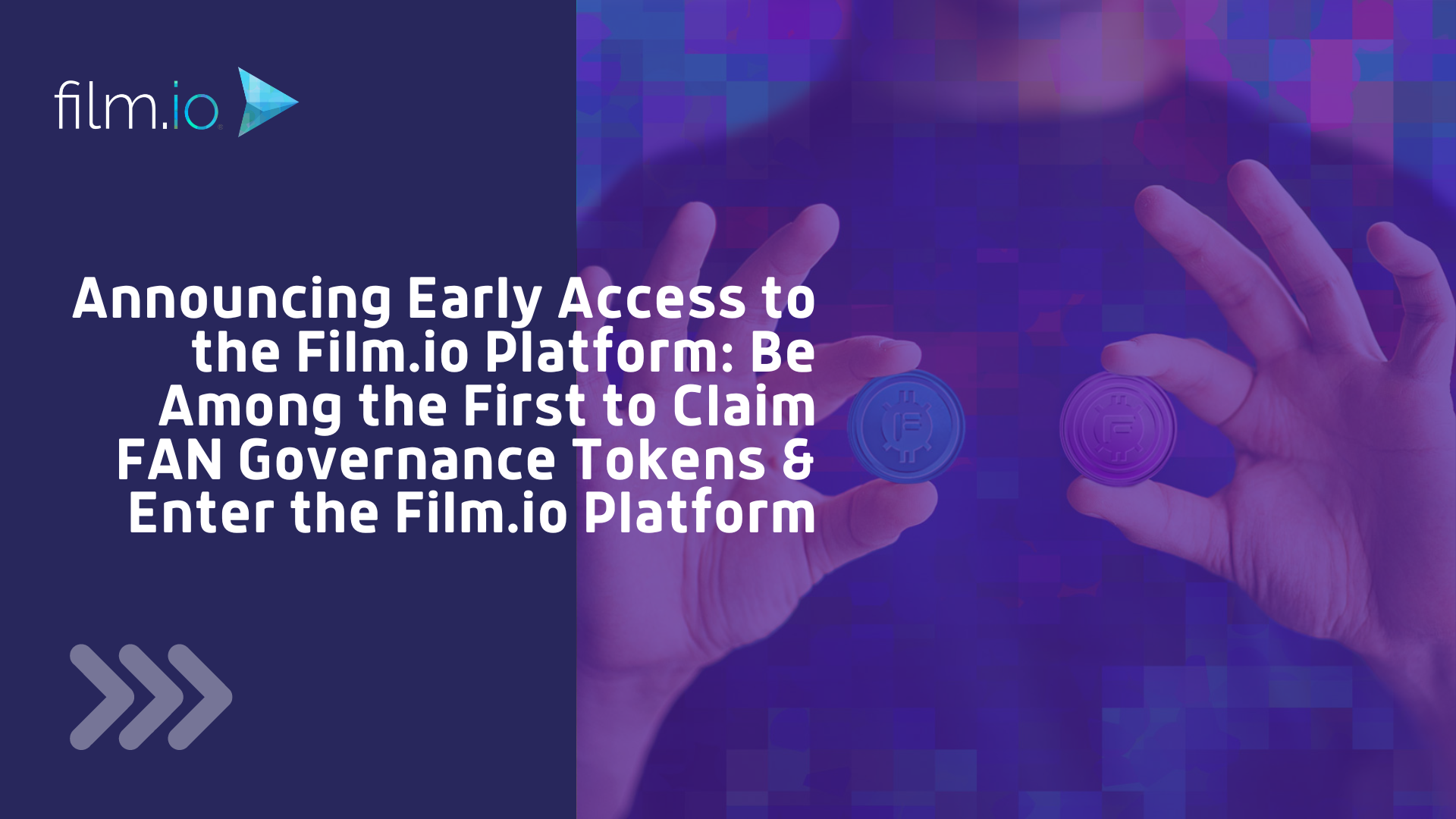 Film.io was created by Ingredient X, a film and software development studio specializing in blockchain, DeFi, and NFT technologies. Ingredient X/Film.io produces original film, TV, and NFT projects, including the critically acclaimed Star Wars autobiographical coming-of-age comedy, "5-25-77", Blood Window Award digital collectible NFT's of 15 original pieces created by famed artist Flavio Greco Paglia – recognized worldwide for his mind-bending illustrations within the science fiction and horror genre, and "Landmarks Live In Concert," a hybrid travelog and music documentary series hosted by Red Hot Chili Peppers drummer Chad Smith, featuring renowned musicians such as K.D. Lang, Alicia Keys, and Foo Fighters.
We will launch the Early Access version of the Film.io platform in 2023. Early Access is a limited opening of the platform reserved exclusively for our Film.io pioneers to be among the first fans and creators to claim FAN Tokens and be a part of an entirely reinvented Hollywood on the blockchain.
Here are some key features of Early Access:
Explore Page: The Early Access version of the Film.io platform features a mobile-friendly landing page optimized for ultimate project visibility and engagement with auto-generated previews and intentional design features elevating a project's visual aesthetic.
Project packaging page: Creators' project submissions automatically build a beautiful promotional page that helps to automate the packaging for their projects, including a wide variety of assets such as loglines, lookbooks, trailers, treatments, project status, script, posters, production photography, story overview and more.
FAN Governance Tokens: Our FAN Governance Tokens will be minted and distributed to fans through a custodial wallet, enabling them to utilize the tokens seamlessly within the platform.
Staking and FGR: The concept of staking is where a fan will lock up a certain amount of FAN Governance Tokens on a project as a show of support and earn a Fan Governance Reward (Film.io's version of an APY) for the action. Fans are encouraged to rate, review and share on the Explore and Project page.
Go Score: The Go Score algorithm is a crucial metric for predicting the project's success. The Go Score represents aggregate totals from fan collaboration with token stakes, project reviews, project shares, and other in-platform gamified engagements engineered to better predict a project's success long before production costs are incurred.

Ratings, Reviews, and Shares: Users can now stake, review, share, and collaborate with filmmakers and projects increasing a project's Go Score and moving it through the Film.io ranks towards funding and distribution opportunities. Project shares are currently set up for Facebook and Twitter. We'll be looking at adding additional sharing options in the near future.

Web3 Enhancements

Internal or custodial wallet: Film.io's Internal custodial wallet on the Polygon network allows users to store their FAN Governance Tokens on the platform. The wallet includes a user-friendly feature enabling users to track their FAN Governance Tokens and rewards effortlessly. Upon creating a Film.io account, a new internal custodial wallet will automatically generate, and users will receive their FAN rewards and FAN Governance Token deposits from any Film.io airdrops they participated in.

Users who connect an external Web3 wallet (metamask, etc.) will, initially, only be able to use it to sign into Film.io but not claim or store any Film.io FAN Governance Tokens or rewards.

Film.io is built on the Ethereum network using Polygon as a layer 2 scaling solution. Some of the key advantages of using Polygon are the fast transaction times coupled with low fees, which will undoubtedly enhance the overall user experience and scaling capabilities.

FAN Governance Token Airdrop distribution: Upon completing the FAN Governance Tokens' minting process, we will proceed with the equitable distribution of these tokens among all eligible Airdrop participants.
Web2 accounts: As Web3 technology evolves, we are committed to supporting our Web2 savvy user accounts via validated email addresses or social account sharing on Film.io. This approach reflects our dedication to ensuring seamless user accessibility and facilitating greater inclusivity, regardless of the user's technological background or expertise.
What Film.io will offer in the future
Film funding options include NFTs, reward crowdfunding, equity crowdfunding, DeFi loans, and donation-based funding that will allow for crowdfunding via donations.
Gamified audience building and collaboration, with incentives that include things like NFTs, platform influence/status, and other cool rewards.
Self-serve contest engine for qualifying users to host contests with their own rewards.
AI script analysis integrated seamlessly into the Go Score™ journey.
Creator and Investor AI Matchmaking connects investors and licensors with projects/creators. The Film.io Platform is designed to provide high visibility pairing between projects looking for development funding, licensing, and sale to third-party networks. The Film.io Matchmaking Engine will foster these transactions, taking the tedious work out of finding relevant content for dealmaking.
External wallet transfers allow users to conveniently move their FAN Governance Tokens from their internal custodial wallet to a preferred external wallet of their choice
How can you gain more FAN Governance Tokens?
We're giving the world FAN Governance Tokens! FAN Tokens are used to join and participate in the Film.io DAO, allowing creators (as DAO members) to submit their projects as "proposals" while asking fans to show their support for the projects they believe in by staking their tokens.
Staked FAN Governance Tokens act as a vote, awarding reputation to the fan while allowing a project to move through the Film.io ranks. First, building an audience, and next, leading to validation measured by the progress through our innovative Go Score™. After this, unlocking funding opportunities and a progressive set of features and resources that help champion the creator and the fan who supports them to success.
Here are a few ways of earning FAN Governance Tokens:
Signing up to our platform
Participating in contests and rewards organized by creators 
Sharing content on social media and writing reviews on projects
Referring users to the platform
The more you stake toward a project(s), the more you earn!